Who are we  ?
Created several years ago, La Maison ODETTE Paris is a pastry shop specializing in cream puffs. Gourmet and classic, there is something for everyone! A true blend of vintage tastes and flavors from elsewhere.
Vanilla or chocolate, pistachio or coffee, passion or caramel with salted butter, lemon, berries or praline. Their size makes it an ideal dish for all.  
We can taste many without feeling guilty !
Originally designed in the small kitchen of the first shop in Notre Dame, ODETTE Paris cream puffs are made every day in our laboratory located in the center of Paris by our pastry teams. Several batches are made every day to satisfy the different orders and deliveries of shops, events and individuals. Cream puffs can be kept for up to 48 hours in the fridge (ideal temperature between 3 and 6 degrees).
Our cream puffs are delivered with special care. Deliveries are made in Odette refrigerated truck.
Where to find us ?
The first address named "ODETTE Paris" is unique: the 77 rue Galande, in front of the Saint-Julien-le-Pauvre church, one of the oldest in Paris, and the square René Viviani-Montebello which houses the most old tree of Paris. A cream puffs counter is located on the ground floor of the small 17th century building in the heart of the 5th arrondissement of the capital.
Nestled on the first and third floor, the minimalist and retro tea room offers a breathtaking view of Notre-Dame de Paris, to admire while delighting the cream puffs accompanied by a real hot chocolate, a tea, a coffeesor why not a glass of champagne?
Marble checkerboard floor, marquetry walls and Art Deco design: ODETTE Paris revives the universe of the Roaring Twenties. The vintage music released in the shop completes to make us travel back in time.
A second shop opened a few years ago also at 18 rue Montorgueil 75001.
At the beginning of a charming pedestrian street, the cream puffs can be enjoyed on the fly thanks to its counter directly on the street!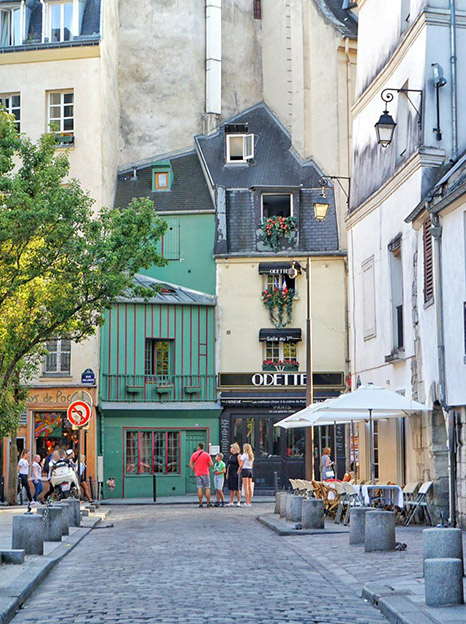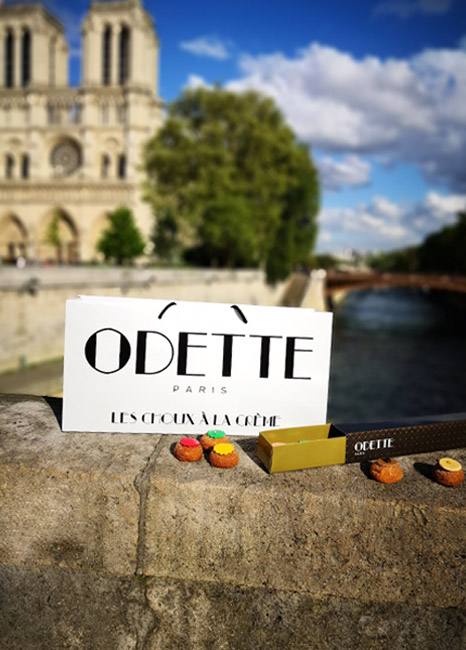 Ready to order your cream puffs ?
Are you rather mounted pieces, refined box or elegant and practical boxes? Whatever you choose, ODETTE Paris cream puffs are here to make you salivate.
Excellent for you but also a great gift for your friends or clients, ODETTE Paris cream puffs will delight any palate.
Here are some ideas to taste your cream puffs :
Presented in hard monogrammed cases of 6, 9, 12 or 18, ODETTE Paris cream puffs are a chic and refined gift. For the more exceptional occasions, magnificent pieces of 80 to 750 cream puffs are also available.
To push the refinement even further, there is the luxury box ODETTE Paris including 72 cream puffs spread over 3 trays of 24 each.
Finally for receptions, cocktails or very special events, it is also possible to taste ODETTE Paris cream puffs through a custom buffet reminding you of the special atmosphere of the shops (Minimum Order: 500 Cream puffs)
Last possibility, the personalization of cream puffs ODETTE Paris!
Fondant with the colors of your brand, presence of your logo in the form of a personalized chocolate plate, a wide range of possibilities is offered to you on condition that the whole remains gourmand and elegant.